2018 Jeep Wrangler Car Review
At Hillview Motors, we understand that, sometimes, you just have to escape the main roads in the Greensburg, Jeannette, and Delmont areas, and head for the hills. When those urges hit, the 2018 Jeep Wrangler makes for a great set of wheels, as this car review will show.
2018 Jeep Wrangler Engine Specs
The 2018 Wrangler comes standard with the classic 3.6L Pentastar® V6 engine, with a fuel-saving twist. This engine generates 285 horsepower and 260 lb-ft of torque, while sipping on fuel with the standard Engine Stop/Start (ESS) technology.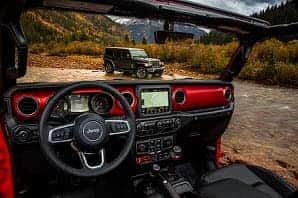 ESS improves fuel economy by turning your engine off while stopped at a light or in stop-and-go traffic, and powers it back up when you hit the accelerator.
If you want a bit more towing power, opt for the available 2.0L Turbo I-4 engine that generates 270 horsepower and 295 lb-ft of torque. This engine further preserves fuel by employing regenerative braking in addition to ESS. Regenerative braking uses kinetic braking energy to charge the battery.
A 6-speed manual transmission is standard, featuring low first and reverse gears for better off-roading capabilities, and a vent tube for improved water fording.
An 8-speed automatic transmission, however, is also available, providing enhanced acceleration, reduced fuel consumption, and better towing abilities: up to 3,500 pounds.
Trail-Rated® 4×4 Systems
As a Trail-Rated® vehicle, the Jeep Wrangler has passed rigorous tests in five areas:
Traction
Water Fording
Maneuverability
Articulation
Ground Clearance
Jeep vehicles with this badge are designed and tested for off-road driving. One of the ways the 2018 Wrangler achieves this distinction is with its three available 4×4 systems.
The standard Command-Trac® Part Time 4×4 System shifts seamlessly between 2-wheel drive (2WD) and 4-wheel drive (4WD) to optimize traction and handling. It also includes a low range for easily crawling over rocks.
The available Rock-Trac® 4×4 System increases your crawl capability even more by providing a very low gear ratio. This system is also ideal for steep inclines.
You'll have the Selec-Trac® Full-Time 4×4 System available, too, which actively monitors your road conditions and autonomously shifts torque and power between the wheels to provide continuous, optimum traction.
Jeep Wrangler Exterior
Most people are familiar with the distinctly adventure-ready exterior of the Jeep Wrangler, which the 2018 model certainly brings to the trail. This model is also customizable in several ways, so you can get the exact experience you want out of your Wrangler.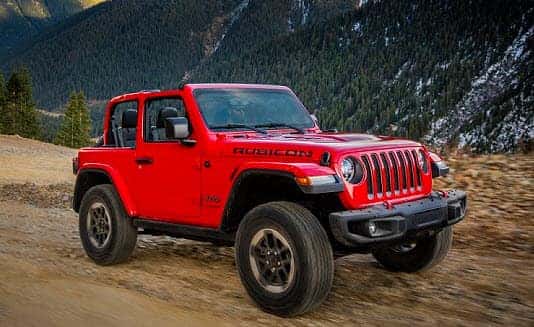 Drivers can sport three different tops: the standard Sunrider® soft top, the Freedom Top™ modular hardtop, or the Sky One-Touch™ power top.
The now-zipper-free Sunrider® soft top features spring-assisted folding to quickly open up and let the sky be your rooftop. Meanwhile, the Freedom Top™ modular hardtop features removable front panels to reveal an open-air skylight. Finally, the Sky One-Touch™ power top folds back at the press of a button, like a panel-less sun roof.
You can also choose between a highly agile 2-door body style, or a 4-door model that extends the body to create more cargo space or passenger volume. And, of course, all doors are removable. While you're at it, fold down the windshield and bask in the ultimate feeling of freedom.
Test Drive the 2018 Jeep Wrangler
If you're excited to take control of the 2018 Jeep Wrangler, come see us at Hillview Motors and we'll get you behind the wheel for a drive around the Greensburg, Jeannette, and Delmont areas. We can also answer any questions you have about our Jeep Wrangler car review at that time, so contact us today to get your adventure started!