2018 Chrysler Pacifica Dashboard Symbols Guide
When you're driving your minivan around Greensburg, Jeannette, or Delmont, the last thing you want to see is an unexpected light on your dashboard. These indicators are extremely important; they're how your car communicates with you, letting you know that systems are engaged or that there's a problem.
Rather than hunting through your owner's manual to find the source of the notification you're seeing, why not keep a quick reference guide handy, so you can check at a glance? Consult this 2018 Chrysler Pacifica Dashboard Symbols Guide whenever you see an indicator, and learn where to go if you need to have the problem serviced.
2018 Chrysler Pacifica Dashboard Symbols Guide
There are essentially two kinds of lights that this 2018 Chrysler Pacifica dashboard symbols guide will cover. The first are warning lights. These are the lights that tell you something isn't right with your vehicle. The second are indicator lights, which tell you that a system in your vehicle is engaged and working as intended.
Chrysler Pacifica Warning Lights
Warning dashboard symbols come in two varieties: those that are minor malfunctions and indicators of something you can handle on your own, or those that are very serious and could represent dangerous driving. In either case, it's important to have the problem addressed before it becomes more serious, expensive, or dangerous.
Airbags: If you see a car passenger with a black circle in front of them, your airbag system is malfunctioning. You should get it serviced fast.
Seatbelts: A front view of a passenger wearing a seatbelt is letting you know that someone needs to buckle up.

Low Fuel: An image of a gas tank lets you know you need to put gas in the tank.
Check Engine: A profile of an engine in solid red is telling you that you've got an engine problem. First, tighten your gas cap and see if it turns off. If not, there's a more major problem you'll need to check.
Power Steering: If you see a steering wheel with an exclamation point, there's a problem with your power steering. This can make the car hard to control and more dangerous to drive.
Brakes: If you see the letters ABS, it means your antilock brakes are malfunctioning. The braking system should still work, but they could lock up if you have to brake quickly.
Battery System: If you see an image of a car battery, it means there's a problem with your charging system. You'll need to get it fixed, or your car could lose power.
Chrysler Pacifica Indicator Lights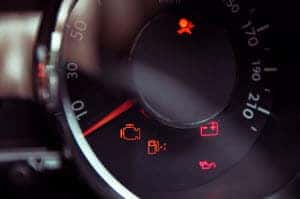 Indicator lights on your Chrysler dashboard just let you know that one of the systems on your car is engaged and working as intended. These are good lights, as opposed to warnings.
Headlights: If you see a headlight in profile with lines coming off it, your high beams are on. If you see a headlight with lines, and a slash through the lines, it's letting you know your fog lights are on.
Frontal Crash Warning System: If you see an explosion and the word "off," your collision system isn't engaged. If you see a car with stars and lines, it is active.
Lane Keeping System: If you see a car swerving off the road that's white, the Lane Keeping System is on, and no lines are detected. A yellow light means you're out of your lane; green means the system is running and all lines have been detected.
Get Service at Hillview Motors
If you're driving in the Greensburg, Delmont, or Jeannette areas, and you see these or any other car dashboard symbols from your 2018 Chrysler Pacifica Dashboard Symbols Guide, you can get service at Hillview Motors. Just give us a call to schedule an appointment today!