Summer Pet Safety: Don't Leave Your Pet in a Hot Car!
At Hillview Motors, we consider our 4-legged friends a part of the family and wish we could take them everywhere with us. This is especially true in the summer, when the dog parks start opening for the season in the Jeannette, Delmont, and Greensburg areas. However, we want to remind pet parents that dogs are always wearing a fur coat, so if you're hot, they're definitely hot, as well. If you have to stop to run an errand on your way home from the park, practice summer pet safety and don't leave your pet in a hot car.
Don't Leave Your Pet in a Hot Car
While we believe that most doggy dads and moms want nothing but the best for their pooch, many people don't realize just how hot a car can get, even with the windows rolled down, and even when parked under a tree. The unfortunate truth is that dogs become very uncomfortable at an exterior temperature of 83 degrees Fahrenheit and can suffer heat stroke and seizures if their internal temperature climbs above 106 degrees Fahrenheit, which can happen quickly inside a hot car. In fact, the internal temperature of a car can rise 20 degrees above the outside temperature after being parked for just 10 minutes and will rise incrementally from there. This means that, even on a 65-degree day, the temperature of your car can quickly rise above safe temperatures for your dog. On an 80-degree day, the temperature will be well above 100-degrees in just a matter of minutes.
Signs of Heat Stroke in Dogs
If your dog experiences extremely warm temperatures, he is at risk of heat stroke. While this is life-threatening for all dogs, short-nosed breeds—like pugs, mastiffs, bull dogs, shih tzus, and spaniels—are especially susceptible. You may notice the following signs if your dog is experiencing heat stroke:
Panting
Drooling
Vomiting
Weakness
Collapse
Seizures
If you notice any of these symptoms in your dog, move him to somewhere cool immediately. Sprinkle him with cold water, but don't submerge him or his temperature may fall too rapidly. Use cold compresses on the back of the neck and under the armpits. See your vet immediately.
What to Do if You See a Dog in a Hot Car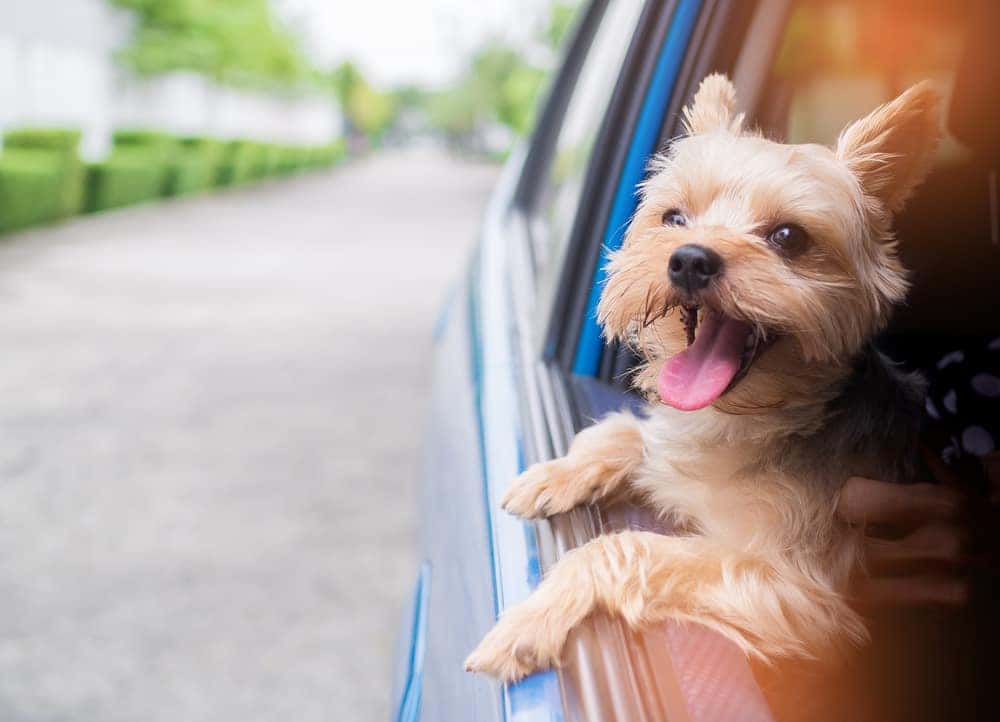 Unfortunately, many people don't realize just how dangerous it can be to leave your pet in a hot car, even for a short period of time. If you're out shopping and you see a dog in a hot car, there are several things you can do to help.
Note the car's make, model, and license plate number
Enter the nearby businesses and ask them to make an emergency announcement
Call the police and wait by the car
Practice Pet Safety this Summer
Next time you're running errands around Greensburg, Jeannette, and Delmont, remember to practice summer pet safety and keep your pooch where it's cool. Thank you for helping Hillview Motors remind people not to leave their pet in a hot car, and have a great summer!
Have questions? Contact us!
Sources:
https://www.petinsurance.com/healthzone/pet-articles/pet-health/Hot-Car-Danger-to-Pets.aspx http://www.humanesociety.org/animals/resources/tips/help-dog-in-hot-car.html http://www.humanesociety.org/assets/pdfs/pets/hot_car_flyer.pdf