Cherokee vs Grand Cherokee
One of the best ways to get around the Greensburg, Jeannette, and Delmont areas is with an SUV. Their interior space is generally enough motivation, but these vehicles also come with more engine power than you might think. The main dilemma is determining exactly how big you want to go with it.
Two of the best SUVs on the market are the Jeep Cherokee and the Jeep Grand Cherokee. As the name may suggest, the Grand Cherokee is the larger of the two, with the Cherokee being more similar to a crossover. Both have a lot to offer, but only one can be right for you. Find out which with our comprehensive Grand Cherokee vs. Cherokee comparison.
Interior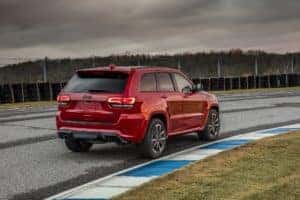 Among the most important factors of any SUV is the interior space. Both have plenty of room inside, but given that the Grand Cherokee is significantly larger than the Cherokee, it naturally follows that it'll have more space. Surprisingly enough, however, the Cherokee actually offers more legroom in the front and the back. Front passengers in the Cherokee get 41.1 inches of space compared to the Grand Cherokee's 40.3 inches, while back passengers in the Cherokee get 40.3 inches compared to the Grand Cherokee's 38.6 inches.
Cargo capacity is a different story, with the Grand Cherokee fitting significantly more inside. Of course, that's what you'd expect with a difference of over ten cubic feet in overall interior volume. With the rear seats folded down, the Cherokee can hold up to 54.9 cubic feet of cargo, but the Grand Cherokee can push that all the way to 68.3 cubic feet.
Engine Power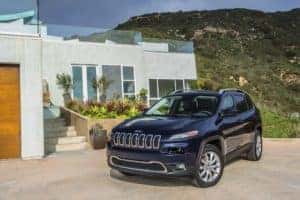 When it comes to engine power, there's really no contest. The Cherokee provides adequate power, no matter which trim level you opt for, but the Grand Cherokee offers best-in-class horsepower with its powerful 6.2-liter supercharged HEMI® V8 engine. Available only on the Trackhawk trim, this engine produces an incredible 707 horsepower.
The Cherokee can be equipped with a V6 that's powerful in its own right, offering 271 horsepower. While that doesn't exactly compete with the Grand Cherokee's peak, it's more than what you'd expect from a crossover that size. In fact, that almost reaches the Grand Cherokee's standard engine power, which is 295 horsepower, from a 3.6-liter V6.
Capability
Considering the fact that both these vehicles are Jeeps, you can expect unrivaled off-roading capability from each. Both offer their own Trailhawk® trims, which are specifically designed for off-roading. In fact, they're both certified Trail-Rated® Tough, meaning they successfully passed brutal off-road tests measuring articulation, maneuverability, water fording, and ground clearance.
The Grand Cherokee, in particular, offers Quadra-Lift® Air suspension. This system can create five ride heights with a peak ground clearance of 10.6 inches. The Cherokee impresses in a different way, with a suprisingly large towing capacity. When properly equipped, that bad boy can tow up to 4,500 pounds, which is virtually unheard of for a crossover that size.
Cherokee vs Grand Cherokee: Verdict
After our comprehensive Grand Cherokee vs. Cherokee comparison, it's clear the best option depends on your tastes. The Grand Cherokee has more power and cargo space, but the Cherokee might be more comfortable. Either way, a quality Jeep dealer will be able to go over the details to help you decide.
If you're looking for a reliable Jeep dealership in the Greensburg, Jeannette, and Delmont areas, Hillview Motors is happy to help. Our expert team knows the Cherokee and Grand Cherokee inside and out, and we are happy to share our knowledge with you. Contact us today to schedule your test drive.