Jeep Cherokee Gas Mileage

Jeep Cherokee gas mileage. This SUV actually manages an EPA-estimated fuel economy of 18-23 MPG city and 24-31 MPG highway.
The question then, is, what factors affect those numbers during your drives around Jeannette and Delmont? That's what the team at Hillview Motors wants to answer with this Jeep Cherokee gas mileage review, in which we'll discuss factors like engine specs, transmission, and drivetrain.
Jeep Cherokee Engine Specs and Gas Mileage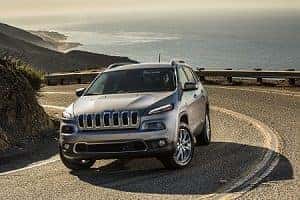 The first factor to consider when exploring the Jeep Cherokee gas mileage is which engine you have working under the hood. The Cherokee makes three engines available, and they are as follows:
2.4L Tigershark MultiAir® I-4: 180 horsepower, 171 lb-ft of torque. EPA-estimated 21-22 MPG city and 29-31 MPG highway.
3.2L Pentastar® V6: 271 horsepower, 239 lb-ft of torque. EPA-estimated 18-20 MPG city, 24-29 MPG highway.
2.0L Turbocharged I-4: 270 horsepower, 290 lb-ft of torque. EPA-estimated 20-23 MPG city, 26-31 MPG highway.
All three engines are equipped with fuel-saving Engine Stop/Start (ESS) technology, which prevents fuel waste while idling by powering down the engine when you come to a complete stop at a red light or in stand-still traffic. Once traffic starts moving again, hit the accelerator and your engine will seamlessly come back to life.
Jeep Cherokee Transmission
Another factor that affects the gas mileage of the Jeep Cherokee is the transmission. This SUV comes equipped with the 9-speed automatic transmission standard. This transmission has closely spaced gear ratios to keep you in the optimal gear for whatever challenge you face.
It also has four overdrive ratios that further improve efficiency during sustained highway cruising. This allows your engine to take a break so that it's not working harder than it needs to during smooth driving conditions.
Jeep Cherokee Gas Mileage and Drivetrain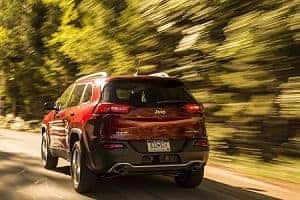 The Jeep Cherokee comes standard with a front-wheel drivetrain (4X2) that's lightweight and efficient, keeping your EPA-estimated fuel economy around 20-23 MPG city and 29-31 MPG highway.
However, many drivers in our area opt for one of the 4-wheel drive (4X4) systems that can take their handling capabilities to the next level, whether traveling off-road or commuting to work on snowy roadways.
The Cherokee makes two of these systems available: Jeep Active Drive I and Jeep Active Drive II. Jeep Active Drive I is a part-time system that automatically switches between 4X2 and 4X4 as necessary depending on your conditions.
This allows you to optimize your handling capabilities for the terrain you're facing, while also improving efficiency by operating in a 4X2 mode when cruising down a dry highway.
Jeep Active Drive II allows you to also operate in a 4X4 Low mode when tackling rocky pathways or towing a trailer. This optimized drive mode improves gas mileage by giving you a higher low-end torque output, so that your engine doesn't have to work as hard to tow.
Ask us about the Jeep Cherokee Gas Mileage
If you have any other questions about the Jeep Cherokee gas mileage, come to Hillview Motors in the Greensburg area and we can show you how to get the most out of every gallon in the Jeannette and Delmont areas. We'll even get you behind the wheel, so you can take this SUV for a spin.
Contact us to test drive the Jeep Cherokee!