Jeep Cherokee MPG
When you're choosing an SUV to accompany you on your next road trip through the Jeannette and Delmont areas, one thing to consider is its fuel economy, or how many miles per gallon (MPG) it gets.
It's clear that the Trail-Rated® 2018 Jeep Cherokee has a lot to offer when you get off the beaten path, but we wanted to give our Greensburg area customers an idea of how this SUV does on the main roads. So, we created this Jeep Cherokee MPG breakdown.
What is the Jeep Cherokee MPG?
The 2018 Jeep Cherokee MPG is an EPA-estimated 20-21 MPG city and 27-30 MPG highway, depending on your engine and drivetrain options.
With the standard 2.5L I-4 engine and a front-wheel drive (FWD) drivetrain, you'll achieve the maximum EPA-estimated fuel economy of 21 MPG city and 30 MPG highway.
This engine manages to increase its efficiency, without compromising power, with an output of 184 horsepower and 171 lb-ft of torque. This engine can also come equipped with an available Jeep® Active Drive 4X4 (or 4WD) system that gives a major boost to your handling capabilities, while still keeping your EPA-estimated fuel economy at 21 MPG city and 28 MPG highway.
For a hefty power boost, many Jeep Cherokee drivers prefer to upgrade to the available 3.2L Pentastar® V6 engine that generates 271 horsepower and 239 lb-ft of torque. With this engine under the hood, this SUV can get an EPA-estimated fuel economy of 20 MPG city and 27 MPG highway.
Jeep Cherokee Transmission
When considering the Jeep Cherokee MPG, it's important to talk about the 9-speed automatic transmission that keeps your drive smooth and efficient. With closely-spaced gear ratios, this transmission provides almost imperceptible gear changes that create an optimized driving experience.
It does this by monitoring your driving conditions and shifting as necessary to keep you in the best gear for optimal performance. This transmission also includes four overdrive ratios that keep fuel consumption down by shifting into a higher gear at highway speeds, where less engine power is needed.
Jeep Cherokee Exterior Design and MPG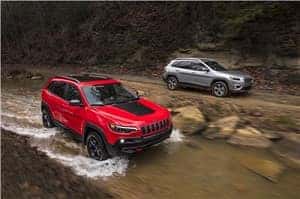 While the Jeep Cherokee is a rugged contender for any off-road adventure, it's also a stylish SUV that's equally as comfortable spending a night on the town. This sleek exterior, in addition to giving the Cherokee an upscale look, also improves its aerodynamics.
As opposed to the distinctly boxy shape often associated with Jeep vehicles, the Cherokee adopts a much more rounded exterior. The well-known seven-slotted grille melds with a curved hood that merges into a sloping roofline, allowing air to flow around this SUV's body, decreasing wind resistance.
Even with the aerodynamic exterior design, the 2018 Cherokee still maintains a tall ground clearance, so you can transition from the streets to the trail with ease.
Learn More about Jeep Cherokee MPG
If you want to learn more about this SUV's fuel economy, or discuss anything in our Jeep Cherokee MPG review, come see the team at Hillview Motors. We'll be happy to get you behind the wheel and tell you more about how the 2018 Cherokee can add to your next road trip. Schedule your test drive today!