Jeep Renegade MPG
It's no secret that the Jeep Renegade is a go-anywhere, do-anything kind of SUV. It has the Trail-Rated® badge to prove it. But many of our customers around the Delmont, Jeannette, and Greensburg areas are curious about what kind of fuel economy the Renegade manages while taking on its next adventure. To answer that question, the team at Hillview Motors put together this 2018 Jeep Renegade MPG review, so that you know exactly what to expect, and how to maximize this SUV's fuel efficiency.
What is the Jeep Renegade MPG?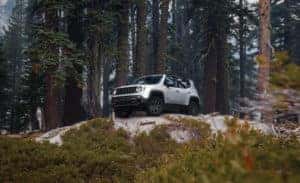 The Jeep Renegade MPG estimates run a range of an EPA-estimated 21-24 MPG city and 29-31 MPG highway, depending on different components like drivetrain, transmission, and engine. Your conditions and driving technique can also determine whether you're at the high end or lower end of that range.
Jeep Renegade MPG: Engine Specs
One of the biggest factors in the fuel economy of the Jeep Renegade is what kind of engine is plugging away under the hood. Drivers will have two powertrains to pick from with this SUV, each with their own fuel economy estimates. The standard engine is the 1.4L MultiAir® turbo engine that delivers 160 horsepower and 184 lb-ft of torque. This is a highly efficient engine that can reach an EPA-estimated fuel economy of 24 MPG city and 31 MPG highway. This engine manages to achieve these MPG numbers thanks to the MultiAir® technology that uses variable valve timing to better control air intake and reduce pumping losses. This kind of technology manages to improve torque and power output while reducing consumption levels and emissions. There's also an available 2.4L MultiAir® 2 engine that delivers a bit more of a kick, with an output of 180 horsepower and 175 lb-ft of torque. Despite adding more power, this engine still manages an EPA-estimated fuel economy of 21-22 MPG city and 29-30 MPG highway. It keeps its fuel economy high by swapping out the standard 6-speed manual transmission for an even more efficient 9-speed automatic transmission with closely spaced gear ratios. This transmission provides smooth, almost imperceptible shifting and keeps you operating in the best gear for optimal performance.
Jeep Renegade Drivetrain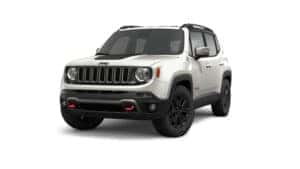 Another component to fuel efficiency in the Jeep Renegade is drivetrain. This SUV comes standard with front-wheel drive (FWD) which is the most fuel-efficient drivetrain option from the Renegade. However, with the kind of snow we get around here in the winter, many local drivers are interested in a 4-wheel drive (4X4) system. The two available Trail-Rated® 4X4 systems also include the Selec-Terrain® Traction Management System that lets you choose between four selectable drive modes to meet your needs. These modes include Snow, Sand, and Mud, for tough challenges, plus Auto mode for everyday driving. In Auto mode, your Renegade will automatically adjust torque distribution to meet your needs. This helps to improve efficiency by easing off on the rear driveline when not needed, like when traveling at highway speeds, and allowing you to essentially operate in a fuel-saving FWD mode.
Maximize Your Jeep Renegade MPG
If you have any other questions about how to get the most out of every tank of gas in your Jeep Renegade in the Greensburg, Jeannette, or Delmont areas, come to Hillview Motors. Our knowledgeable team is always happy to answer any questions you may have about the Jeep Renegade MPG. Contact us today!