Ram 1500 Towing Capacity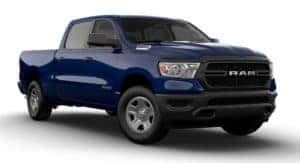 If you have to tow anything, nothing works better than a rugged and powerful pickup truck. And, even with a less diverse selection when compared to sedans or crossovers, you still have a lot of trucks to choose from.
One of the best trucks in the Greensburg, Jeannette, and Delmont areas is the new Ram 1500. With its numerous features, it'll be an exciting drive for anyone, but the towing capability is where it truly shines.
So, what's the Ram 1500 towing capacity? Find out in our comprehensive review of this truck's incredible capability.
Maximum Towing Capacity
The Ram 1500 towing capacity is impressive, no matter which version of this truck you select. Even the least powerful model has a 3.6-liter V6 engine that can boast a 6,500-pound towing capacity without any enhanced towing equipment. That's already more than virtually any other class of vehicle can offer, and it's just the beginning.
When properly equipped with all the necessary add-ons and the 5.7-liter V8 HEMI® engine, the Ram 1500 can tow up to 12,750 pounds. While that's impressive enough in its own right, it's important to realize that no other pickup in this class can match that level of V8 towing. As it turns out, however, that's not the only best in class feature to help with your towing.
Towing Technology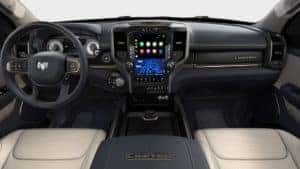 Inside the Ram 1500, you'll find all kinds of technology, from infotainment systems to GPS functionality, but there's advanced tech to help with towing, as well: Four Corner Air Suspension is arguably the most impressive piece of tech, and it's class-exclusive. That means you won't find a similar feature on any other truck in this class.
Four Corner Air Suspension functionality can change the height of your truck to cater to whatever you might be doing. It will automatically lower the truck at highway speeds to reduce drag, but that's just the beginning. It also provides a level loading area, so setting up a trailer for towing is easier than ever before.
Know Your Engine
The Ram 1500 comes with three distinct engine options, and you need to know what the maximum towing capacity of each is before you decide on one over the other. The standard 3.6-liter Pentastar® V6 is impressive enough with its 305 horsepower and 269 lb-ft of torque, but the towing capacity maxes out at 7,730 pounds when properly equipped. While still impressive, the Ram 1500 can do better.
Take one step up, and you'll have the 5.7-liter HEMI® V8. This 395 horsepower and 410 lb-ft of torque engine can tow up to 11,610 pounds. If you want to reach that maximum 12,750-pound mark, you'll need the V8 with eTorque. It's similar to the other V8, but the eTorque feature can add up to 130 lb-ft of extra torque, bringing the total to 540 lb-ft of torque.
Test Drive the Ram 1500
Are you eager to get to a Ram dealer to test out this incredible truck for yourself? If so, head to Hillview Motors, the premier Ram dealership in the Greensburg, Jeannette, and Delmont areas. Our knowledgeable staff is happy to go over the Ram 1500 towing capacity, along with any other feature you might be interested in. Contact us to schedule your test drive today!