Vehicle Maintenance Tips from Hillview Motors
Your busy life doesn't have time for a breakdown and one of the best ways to keep your vehicle running properly is through regular car maintenance in Greensburg, PA at Hillview Motors. Even the best-made cars and trucks like our durable RAM 1500 will need dedicated service to ensure performance. Our team of Chrysler, Dodge, Jeep®, RAM service specialists will take care of everything from oil changes to major repairs.
Why Vehicle Maintenance is Critical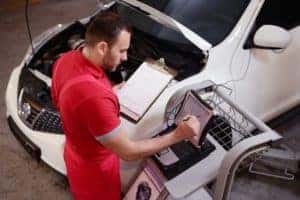 Rugged vehicles like our Jeep Grand Cherokee are built to last but there are consumable components on every car that need to be replaced over time like engine oil, tires, belts, and filters. Failing to monitor and service your car can impact both performance and safety. Driving on worn tires or with a frayed belt can be a dangerous proposition. The good news is that with simple maintenance tasks, you can promote safety while extending the life of your vehicle.
Vehicle Maintenance Checklist
Brakes: Is there a component more critical to your safety? Any warning signs like the telltale squealing or soft brake pedal require immediate attention. Our Jeep dealers near Jeannette know you should always follow manufacturer recommendations for brake inspections and service.
Tires: Similar to brakes, tires are essential for safety. Improperly worn or poorly inflated tires will impact your traction and your ability to stop. It's a good idea to check your tires once per month.
Lights: Working lights will not only help you see but will also let other drivers know when you're slowing down or turning. Hillview Motors can perform a quick check during your oil changes to ensure your lights are functioning.
Battery: Extreme temperatures, which can occur in our neck of the woods, can wreak havoc on batteries. To avoid being stranded, it's a good idea to check your battery's health at least twice per year.
Check engine light: It's true the check engine light might be as simple as a loose gas cap but it could also be something much more serious. If it comes on, don't ignore it.
Are you searching for a "Jeep dealer near me" who offers exceptional car service near Greensburg, PA? Turn to the professionals at Hillview Motors. Whether you're looking for quick and affordable maintenance or Dodge cars for sale, our Chrysler dealership near Irwin does it all including sales, financing, and service.