2019 Jeep Wrangler Review

Are you looking for a vehicle that can serve you well on the streets of Greensburg, Jeannette, and Delmont, but can also handle traveling off the beaten path? If so, you need a rugged off-roader. While there are plenty of options available for you no matter what your preferences are, nothing beats the reigning champion.
For decades, the Jeep Wrangler has been famous for its incredible off-road capabilities, and the newest model is no exception. Could this classic off-roader's latest iteration be everything you've been looking for in your next ride? Find out in our comprehensive review of the 2019 Jeep Wrangler.
Capability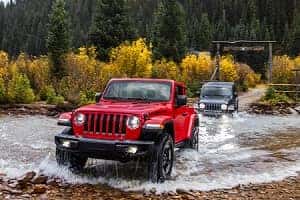 Jeep has made a name for itself over the years for building some of the best off-roading vehicles, and the best of the best are awarded with the Trail-Rated® badge. While most Jeep models have one or two trims that sport this badge, every single version of the Wrangler proudly wears it after conquering a gruesome test featuring daunting off-road challenges.
The Wrangler excels in all areas that matter for off-roading, from articulation to water fording. All electrical connections are sealed against moisture, and air intake is positioned high in the engine compartment, so a little water won't cause any trouble. There are even three distinct 4WD systems that work perfectly to help you conquer even the most challenging terrain, maintaining your traction and flexibility.
Performance
All this off-road capability is powered by three impressive engine options, one of which the Wrangler has never seen before. The standard engine is a 2.0-liter turbo four-cylinder that offers 270 horsepower. If that's not enough for you, be sure to upgrade to the 3.6-liter V6 engine that boasts an impressive 285 horsepower.
New to the Wrangler is a powerful and efficient turbodiesel V6. The Wrangler has never had a diesel option before, but with this, you can boost your torque to new heights with a maximum torque of 440 lb-ft. With that much torque and an increased fuel-efficiency, the diesel option is certainly one of the more attractive engines available.
Learn more about the Jeep Wrangler MPG here!
Safety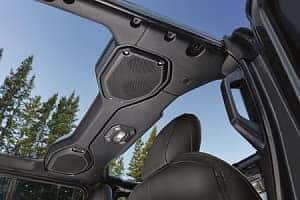 If you're planning on embarking on an off-road adventure, you need to make sure your ride is safe. Jeep has quite a bit of experience building off-roaders, so they know exactly what it takes to make your ride safe. The chassis itself functions as a safety cage designed to direct kinetic energy from collisions around the cabin rather than straight through, and you and your passengers will be surrounded by a multitude of airbags.
A rearview camera is standard in every Wrangler, but the new model also offers more advanced safety technologies, like Rear Cross-Traffic Alert and Blind Spot Monitoring. The Wrangler uses sensors to monitor its blind spots and to notify you if a car or pedestrian is coming when you're trying to back out of a spot.
Test Drive the 2019 Jeep Wrangler
This is just a taste of everything the 2019 Jeep Wrangler can offer. If you want to learn more, head to Hillview Motors, the trusted Jeep dealer in the Greensburg, Jeannette, and Delmont areas. Our friendly team is happy to show off every inch of this off-roader to you. Schedule your test drive today!