How to Lease a Jeep® Grand Cherokee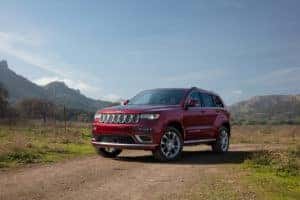 With a Jeep® Grand Cherokee lease, you can get into the refined and capable SUV for less. The SUV is perfect for off-road adventurers and city cruisers alike. And, with our seamless leasing process at Hillview Motors, yours is just a quick phone call or visit away.
How Does a Lease Work?
Leasing is essentially borrowing a vehicle for a predetermined term. A term typically lasts two to three years (although they can be more or less). Since you are only responsible for a portion of the vehicle's lifespan, you are only responsible for a portion of its total investment.
This allows buyers to lease a car more affordably than buy one. Then, at the end of the lease you can opt to either buy the car or simply return it to the dealership.
How Do I Get Approved?
Getting approved for a lease is not unlike getting approved for financing. You can apply online or meet with our Jeep finance center.
We'll collect information from you including your income and work history, your credit history and score, and your debt. Then, we'll give your information to the lenders we work with to help you find one for your lease.
Is it Better to Buy or Lease?
Still deciding if buying or leasing a Jeep Grand Cherokee is best? There are advantages to each. Leasing is best for shoppers looking for a lower monthly payment.
It's also best for people who are consistently looking to upgrade their vehicle. Buying is best for people wanting to build up equity in their vehicle. Also, buying doesn't have the same restrictions as a lease does such as limited mileage and no customizations.
Want to learn more? Reach out to our Jeep dealership near Jeannette, PA – we're happy to help!