Jeep Compass vs Cherokee
When you're looking for a robust SUV that's designed to handle just about anything, a Jeep is an excellent choice. Among Jeep's lineup of vehicles, the Compass and the Cherokee are both very powerful options. At Hillview Motors, we want to show drivers in the Greensburg, Jeannette, and Delmont areas how these two SUVs compare to each other.
Keep reading to learn about the Jeep Compass and Cherokee and what each of them has to offer.
Versatile Powertrain Options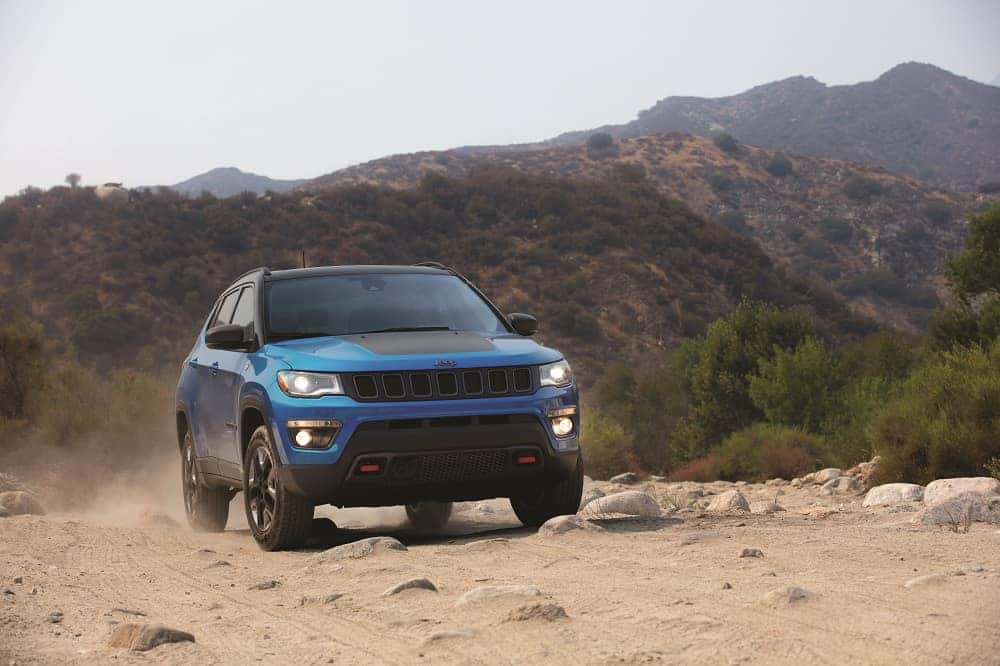 When you're building a vehicle that's designed to handle off-road with aplomb, you need an engine that can provide plenty of power. Inside both the Jeep Compass and the Jeep Cherokee, you will find a robust engine capable of providing plenty of power.
With both of these vehicles you will find a standard 2.4L Tigershark® MultiAir® 2 Engine. These models offer some slightly different performance with the same engine though. The Jeep Compass offers 180 horsepower and 175 lb-ft of torque. Plus, the Compass also brings a potential EPA-estimated 23 city MPG and 32 highway MPG.
The Cherokee offers the same engine but with a slight decrease in power due to the vehicle being heavier. Here you'll find 180 horsepower and 170 lb-ft of torque. You'll also achieve an EPA-estimated 22 city MPG and 31 highway MPG.
For the Cherokee, however, we find that its strong point is its engine options. While the Compass only offers one option, here we find three, including the 2.0L Turbo Engine. This powertrain offers 270 horsepower and 295 lb-ft of torque with an EPA-estimated 23 city MPG and 31 highway MPG. This option offers a great balance between power and efficiency.
Cargo Capacity
A major benefit of an SUV is the large cargo capacity and inside both of these models you will find a lot on offer. The Jeep Cherokee provides a cargo area behind the back seats with 24.6 cubic feet of volume. Drivers can expand that volume to 54.9 cubic feet by lowering the back seats.
The Compass offers a bit more here though with a base cargo capacity of 27.2 cubic feet. Plus, if you want to expand that space, lower the back seats and that volume goes up to 59.8 cubic feet. While the Cherokee offers a great bit of space in the back, you'll get a bit more volume out of the Jeep Compass.
Jeep Compass vs Cherokee: Overview
In general, these vehicles offer a lot of the same features, that being said, the Cherokee does offer more in terms of capability. In addition to offering more engines to choose from, features like Blind Spot Detection come standard in later trims of the Cherokee. In the Compass, Blind Spot Detection only comes as an option even in the later trims.
While the Cherokee is an overall more comprehensive option, the Compass comes with some great benefits too. This vehicle offers more fuel efficiency and even comes with more storage space. Out of these two vehicles, the Compass is the more family-oriented SUV.
Test Drive the Jeep Compass and Cherokee
Whether you need a versatile off-road SUV, or a family vehicle built to handle the elements, you'll find plenty to like in the Jeep Compass and Cherokee. We at Hillview Motors aim to provide drivers in the Greensburg, Jeannette, and Delmont areas with a vehicle to suit their lifestyle.
If you're interested in one of these two vehicles, schedule a test drive with us online or over the phone today!