Jeep® Vehicles at Hillview Motors with the Highest Towing Capacity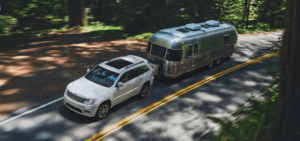 When you want the ideal outdoor vehicle, you can't go wrong with a Jeep® SUV at Hillview Motors. They offer impressive performance and capabilities, perfect for trekking over any trail.
You'll also find that their notable Jeep towing capacity helps when you want to bring along your biggest toys for the adventure.
Jeep Gladiator
The Jeep vehicle with the greatest towing capacity is actually not an SUV, but the Jeep Gladiator, our Jeep pickup truck. When equipped with the 3.6-liter Pentastar® V6 engine, the truck is capable of towing an impressive 7,650 pounds. It also has a best-in-class 1,700-pound payload capacity too.
Jeep Grand Cherokee
Prefer an SUV? You'll still find the Jeep Grand Cherokee has an exceptional towing capacity. When properly equipped, it actually boasts an available best-in-class towing capacity of 7,200 pounds. This towing capacity is possible in three of its four powerful engine options.
Jeep Cherokee
The compact Jeep Cherokee is still big on performance. In fact, it boasts a best-in-class available towing capacity of 4,500 pounds. Its undeniable strength comes from the available 3.2-liter Pentastar® V6 engine which generates up to 271 horsepower and 249 lb-ft of torque.
Jeep Wrangler
We know it'ss impossible to talk about adventures without mentioning the iconic Jeep Wrangler. Don't worry, it still boasts an impressive 3,500-pound towing capacity no matter which of its four powerful engines you opt to equip it with. That makes the SUV capable of towing trailers and even small boats.
Still can't decide which one you want to venture out in? Visit our Jeep dealership in Greensburg, PA to check out our Jeep vehicles and see them in action. We'd love to take a test drive with you today!