Car Dashboard Symbol Guides
At Hillview Motors, we think cars are pretty smart these days. Not only do they get us where we need to go on a daily basis in the Greensburg, Jeannette, and Delmont areas, but they also have built-in communications mechanisms to tell us when something's not right. They're called dashboard symbols, or dashboard lights.
When your car tries to tell you something, it's important to listen, so we created these dashboard symbol guides to help you know what it's trying to say.
Chrysler Pacifica Dashboard Symbol Guide
Jeep Cherokee Dashboard Symbol Guide
Jeep Compass Dashboard Symbol Guide
Jeep Renegade Dashboard Symbol Guide
Ram 1500 Dashboard Symbol Guide
Different Kinds of Dashboard Symbols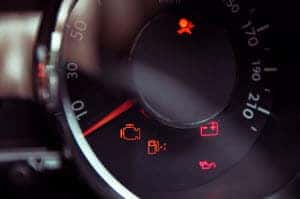 There are two different kinds of dashboard symbols we'll cover:
Warning Lights
Indicator Lights
Warning lights suggest that a vital system within your car has malfunctioned and requires your attention. Often, they will necessitate a trip to a certified CDJR dealership for service or a professional diagnosis. These lights come in red and yellow.
The second kind of light is an indicator light. These come in yellow, green, white, and blue, and are less urgent. They tend to provide valuable insight into your vehicle's operation. Usually, they illuminate to let you know that a particular system is active and working properly.
Dashboard Lights We Cover
We try to keep our dashboard light guides concise, so we only focus on the most common and/or most important symbols. We include important warning lights like:
Oil pressure warning light
Check engine light
Tire Pressure Monitoring System warning light
We'll also cover several indicator lights, including:
4WD LOW indicator light (if equipped)
ECO Mode indicator light (if equipped)
High beam indicator light
If you have any optional driver-assist features installed, like Adaptive Cruise Control, Forward Collision Warning, or LaneSense, you may see indicator and warning lights pertaining to those in our dashboard symbol guides, as well.
Read Our Dashboard Light Guides
If you've noticed a light pop up on your dashboard or want to be prepared for what you may encounter in the future, check out our dashboard symbol guides.
Not only will we tell you what each light looks like and what it means, but we'll also tell you what to do about it, so you're as informed as possible when you're out on the Greensburg, Delmont, and Jeannette area roadways.
Simply find your make and model here on this page and begin reading our dashboard light guides. If you have any questions about something specific, don't hesitate to contact us directly at Hillview Motors today!